Call us on +64 9 361 6415 to discuss your treatment options or enter your details to request an appointment.
As leading Auckland physiotherapists, the physio team at Bodyreform are committed to
your physical health.
Are you looking for an experienced physio you can trust to put your best interests first at all times? Bodyreform is one of Auckland's most experienced physiotherapy clinics – with more than 60 years combined experience in our team. We also keep on the cutting edge of modern physio treatment methods.
Our mission is to make sure you recover as quickly as possible with minimum discomfort. We offer a complete physiotherapy service – to alleviate your pain and rehabilitate musculoskeletal conditions, to prevent them from reoccurring.
Although our services are world class, our charges are reasonable, so that most people can afford treatment.
LEARN MORE
Assess

Physiotherapy assessment of your injury.
Diagnosis

Aim to establish the correct diagnosis for your injury.
Treatment

Alleviate pain and treat your symptoms.
Education

Educate our clients about their injury.
Active Rehabilatation

Specific active re-training.
Progression

Adjust ongoing programme where required.
Mat Classes and Pilates Equipment Classes in Grey Lynn, Ponsonby
Clinical Pilates is the integration of evidence-based physiotherapy with Pilates. Taught by physiotherapists, clinical Pilates is progressive exercise training directed at developing your core strength improved body awareness and global strength (your outside muscles).
By strengthening your key muscles for ensuring a strong and stable trunk, lengthening short muscles and correcting your posture and the way you move, our Pilates classes will enable you to rehabilitate from injury or pain, and prevent the risk of these reoccurring.
VIEW ALL CLASSESS
After my second baby was born, my body was a wreck, with constant back and pelvic pain that made it hard to cope with the physical demands of being a mother. Regular physio – and lots of care, support, and encouragement – from Sarah have made a vast difference. I'm far stronger and very nearly pain-free – better than I was before I had children.
Nicki Judkins
As a New Zealand age-group representative duathlete, I was experiencing regular and ongoing muscular problems in both lower legs. Since attending Sarah's one-on-one Pilates sessions, my leg problems have completely disappeared. Sarah's innovative ideas and caring communication have made what started out as a trying ordeal into a weekly Pilates session that I now look forward to.
Chris Fletcher
I was 44 when I first went to Sarah with a background in sports injuries related to running. I have previously had several years of treatment from physiotherapists but continued to suffer from injuries as my running distances increased. Since being treated by Sarah I have been able to complete both a half marathon and my first full marathon – both in times I was delighted with. I am in no doubt that without her ongoing care I would not have been able to achieve my marathon goal.
Carolyn Burnet
I have been coming to Bodyreform for about 8 years after years of on / off treatment for a lower back problem which resulted in sciatic pain. Not only did they remove the pain, but they also taught me how to support and manage the problem through strengthening my inner core muscles and correcting my posture. Bodyreform's Physios worked hard on my rehabilitation and they maintain a strong relationship / friendship with me that ensures I can look forward to aging gracefully and in a pain free fashion.
Jan Woodhouse
Relax & Put Your Physio Care in Experienced Hands
We're ACC Physiotherapy registered, and will take care of the documentation for you. No referral is required. So all you need to do is call 09 361 6415 or complete the contact form below.
Physiotherapist
Clinical Pilates Instructor
Physiotherapist
Clinical Pilates Instructor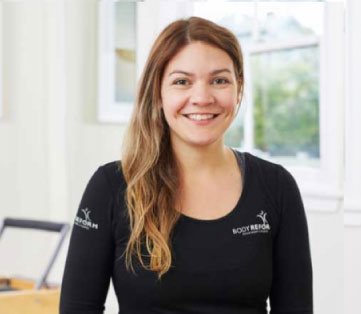 Massage Therapist
Clinical Pilates Instructor
Physiotherapist
Clinical Pilates Instructor
We work with Spine Care, Physiotherapy & Clinical Pilates
Location
1 Schofield Street, Grey Lynn, Auckland
Phone: +64 9 361 6415
Fax: +64 9 361 6417
Mobile: 021 751 472
Email: [email protected]
We are open extended hours:
Monday – Friday 7:00am – 8:30pm
Saturday 8:00am – 1:00pm